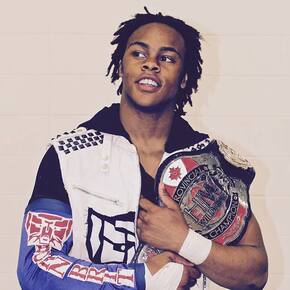 Other
Alexzander Prime/Nathan Trotman
Life in Saskatchewan
Moved to Saskatchewan in 2005
Ancestry
Born on  November 13, 1996 in Watford England United Kingdom
Nathan Trotman started playing football with RMF(Regina Minor Football) in 2007. He starting playing as a Outside Linebacker, the next year Nathan was switched to running back which is where he played for the next 5 years until he made it onto the Dr Martin Leboldus High School Football Team , where Head Coach John Foord switched him back to the Linebacker position. During the one season on the Leboldus Golden Suns the team went undefeated and won both City and Provincial Championships. Nathan would not go on to play Football his senior year because of his opportunity to live his dream and become a Professional Wrestler.
Nathan Started Wrestling in his final year at Dr. AE. Perry (elementary school). Nathan's first match was a tryout for Team Regina. Nathan went on to winning this match and joined Team Regina to compete in the Saskatchewan Winter Games. His wrestling team took second place overall. Nathan joined the Dr Martin Leboldus High School Wrestling Teand and went on to win multiple medals in wrestling such as: Second in Nationals, City Champion, SAWA Provincial Champion, and a Gold medal In the Golden Bear Tournament hosted in Edmonton.
In the spring of his grade 11 year he finally began training to become a Pro Wrestler for High Impact Wrestling. Nathan Debuted a short month and a half after beginning his training at One of the bigger shows of the year at the Pile 'o bones Rumble, under the moniker Alexander Prime. Since his debut Alexander has been wrestling all over Saskatchewan, Manitoba, Alberta, and Colorado. The biggest achievement to date for Alexander Prime happened in April of 2015 at the biggest show of year "The Spring Meltdown". Alexander Prime went on to win a multi-person match and became the H.I.W Wildside Provincial championship and also the Youngest champion in High Impact Wrestling history.
https://leaderpost.com/sports/local-sports/regina-pro-wrestler-nathan-otman-is-in-his-prime