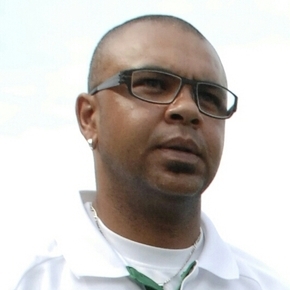 Health/Social Services/Human Justice
Alistair Wilson
Life in Saskatchewan
Immigrated – 1983, Eatonia SK, 1986-1999 Saskatoon, SK. 1999-present Regina, SK.
Ancestry
Born in Chirk, Wales (UK) to Ivan Wilson (St.Vincent, West Indies) and Muriel Wilson (UK) March 29, 1969.
Contributions
Healthcare, Sports Medicine
Alistair immigrated to Canada in 1983 with his family. They began their life in Saskatchewan in the small town of Eatonia SK, just south west of Kindersley. Alistair's father was a minister while his mother was a teacher. Alistair's mother and brother (Philip) returned to the UK following a brief period in Saskatchewan, while Alistair and his father remained. Alistair graduated from Eatonia High School in 1986 and went on to attend the University of Saskatchewan, completing a degree in Physical Education in 1993, and a degree in Physical Therapy in 1999.
Alistair was actively involved in the student athletic training program at the University of Saskatchewan beginning in 1991. He worked with Athletics and Volleyball and was an assistant trainer with the Saskatoon Hilltops Football Club of the PJFC. He acted as the trainer for the Saskatoon Slam Pro Basketball team of the National Basketball League in 1993 and 1994.
In 1994 Alistair began to work as an assistant trainer for the Saskatchewan Roughriders Football Club and has maintained his role with the club to date.
Alistair has worked in health care in Saskatchewan since graduating in 1993 and worked as a licensed Physical Therapist since graduating in 1999. He is a certified Athletic therapist and holds an advanced diploma in manual/manipulative physical therapy. He has worked in, and been a co-owner in private physical therapy practice in Regina since 1999. He is enrolled as a mentor and instructor with the Canadian Physical Therapy Orthopaedic Division.
Alistair and his wife Dionne live in Regina with their two boys Justin and Jarrett.