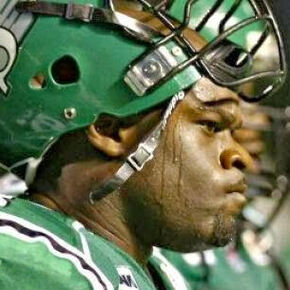 Health/Social Services/Human Justice
Andrew Greene
Life in Saskatchewan
Saskatchewan Roughriders 1997-2007, 2009 Return to Saskatchewan - 2009
Ancestry
Born September 24, 1969 in Jamaica
Contributions
Sport, Social Services, Philanthropy
Andrew Greene moved to Scarborough, Ontario at the age of 12. He began his football career at Pickering High School where he also lettered in basketball, rugby and track and field. Andrew accepted a football scholarship to Indiana University Bloomington (Hoosiers). He was a four year letterman and a three year starter, twice named "Indiana's Outstanding Offensive Lineman". Andrew was named to the first team All-Big Ten Conference and second team All-American in his senior year. As a Hoosier, he played in the Peach, Copper and Independence Bowls. Andrew also played in the East-West Shrine and Senior Bowls. He was selected by the Miami Dolphins in the 2nd round of the 1995 NFL Draft and also played for the Seattle Seahawks and Jacksonville Jaguars before joining the CFL Saskatchewan Roughriders in 1997.
Andrew was a part of the Roughriders playoff run and became a permanent member of the team in 1999. He appeared in 116 regular season games, nine playoff games and one Grey Cup before signing as a free agent with the Winnipeg Blue Bombers in 2007, where he started all 18 games for them. Andrew played for the Bombers in the 95th Grey Cup and in September of 2008 he signed with the Toronto Argonauts and became the oldest active player in the CFL.
He was released from the Argonauts in January 2009 and again signed with the Saskatchewan Roughriders in May of the same year after which he promptly announced his retirement showing his desire to retire as a Saskatchewan Roughrider. In his 11 year CFL career, Andrew started in 146 games, 2 Grey Cups and was a 5 time Western Division All-star and 4 time CFL All-star.
Andrew was a dedicated, hardworking and proud member of the Saskatchewan Roughrider team who gives back to the community in many ways.
2000 – Western Division Outstanding Lineman
2003 - Western Division Outstanding Lineman
2003 – CFL Most Outstanding Lineman
2010 – First Team Era All-Star of 1990-2009
2010 - #49 of top 100 Riders of all time
2012 – Saskatchewan Roughrider Plaza of Honour