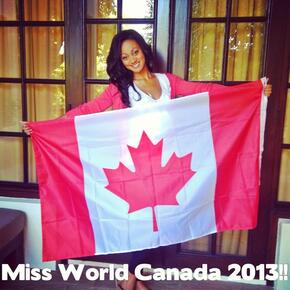 Health/Social Services/Human Justice
Camille {Munro} Parmer
Life in Saskatchewan
Camille became the first woman in 50 years from Saskatchewan to be named Miss World Canada in 2013 (although in 1963, the pageant was called Miss Dominion of Canada and was won by Jane Kmita of Regina).
Ancestry
Born in Regina Saskatchewan
Contributions
Firsts, Arts and Entertainment, Human Justice
Camille Parmer is proud to be a part of the diversity and excellence of people of African Canadian ancestry. Since 2014, she has also been a proud member of SACHM. With an undergraduate Degree in Human Justice from the University of Regina and a Master of Science in Human Resource Management from Troy University, Camille is passionate about the human resources field and helping others reach their full potential in the workplace.
As a professional dancer, model and actress, Camille continues to share her love of the arts as a dance teacher and performance coach with students of all ages. In 2013 Camille won the title of Miss World Canada, representing Canada at the 2013 Miss World Final in Bali, Indonesia. Camille placed 14th overall out of 137 Countries and Top 5 in the Final Talent Competition.
To Camille, the celebration and preservation of Afro-Canadian history is very important. As an active member of SACHM, Camille hopes to continue to share in the amazing contributions of Afro-Canadians in Canada and abroad. "By continuing to acknowledge our roots and share their significance with each generation, we are creating a community and country of rich cultural inclusion; a place for everyone."
Timeline of Accomplishments/Significant events
2011 Katy Perry California Dreams Tour
Saskatchewan Fashion Week (2012 to 2018)
2013 Juno Awards Promo
2013 Miss World Final, Bali Indonesia
Bachelor of Human Justice Degree from the University of Regina (2013)
Outstanding Achievement Award of Excellence, SACHM (2014)
Kevin Hart 'What Now' Tour (2016)
SACHM Presents Measha Brueggergosman "Songs of Freedom" (2017)
Saskatchewan African Fashion Show (2018)
Master of Science in Human Resource Management, Troy University (Alabama) (2019)