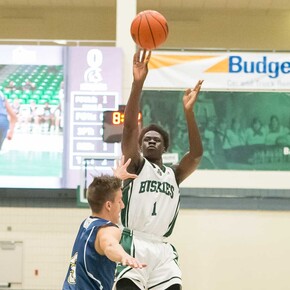 Basketball
Chan De Ciman
Life in Saskatchewan
Family Immigrated in March 23, 1994
Ancestry
Born July 24, 1997
Chan De Ciman, born July 24, 1997, grew up in Regina, Saskatchewan alongside his older siblings Phoebe, Patricia, Margaret, Ben, and Joe. He attending Dr. Martin Leboldus High School where he had a successful high school career receiving honour roll all four years throughout high school and a 6x City/Provincial Champion in Basketball and Football. Chan was the first ever Africian-Canadian to start at the quarterback position in school history and led the program to several titles. Chan was most known for his incredible talent on the field and the court, but mostly for his kind personality and his work with the youth in sport and academics.
After high school, Chan signed to play post-secondary basketball at the University of Saskatchewan while previously enrolled in the College of Engineering. In his first year, he impressed opposing coaches, players and the league to receive All-Rookie Team Honours in the conference and in the entire country. He averaged 12.3 points per game, 4.1 rebounds per game, and 3.0 assists per game in his rookie campaign.
Since then, Chan has battled tremendous season ending injuries and is currently entering his final year of eligibility and switched in the College of Business and will graduate this upcoming spring (2021). In the summer of 2019, Chan was approached with the opportunity to play in the inaugural CEBL (Canadian Elite Basketball League) for the Saskatchewan Rattlers where he was drafted first overall in the USPORTS round. After an exciting and incredible season, the Saskatchewan Rattlers took home the first-ever CEBL Championship hosted in Saskatoon.
Chan has also received all-academic honours and on the Dean's List for the Edwards School of Business for 2019-20. Currently, Chan is finishing up a Management and Marketing Degree and is currently running basketball training programs in the City of Saskatoon for the youth who are struggling to stay active and motivated during the COVID-19 pandemic with all competition being cancelled.
AMATEUR BASEKTBALL CAREER 2006-10 South Dakota State University Men's Basketball Team (NCAA Division I)
2004-07 U18 Canadian National Team (U18 World Championships – Serbia 2007)
2004-05 U17 Saskatchewan Provincial Team (Canada Games)
2002-03 U15 Saskatchewan Provincial Team
2001-06 Campbell Collegiate High School Team
Athletic Achievements:
6 x City/Provincial Champion in basketball and football
Mr. Basketball Saskatchewan
B.R.I.T. & L.I.T. Tournament MVP Awards
U SPORTS All-Rookie Team
Canada West All-Rookie Team

Selected in the first U SPORTS Round of the 2019 CEBL Entry Draft
Background
Provincial Teams - Team Saskatchewan
Favourite Huskie Moment - Hosting Canada West Final Four
Family in Sports - Phoebe (sister) basketball, Patty (sister) volleyball, Margaret (sister) basketball, Ben (brother) basketball, Joe (brother) basketball
Huskie Athlete of the Week (November 22, 2015):
First-year Huskie Chan De Ciman had a breakout performance Saturday night at the PAC.
De Ciman poured in a career high 37 points, taking advantage of the opportunity of being in the starting lineup. The freshman capitalized at the free-throw line converting 14-of-16 attempts. De Ciman also collected eight rebounds, three assists and two steals. The Regina, Sask. native knocked down five three-pointers in the Huskies tough 101-98 loss to UBC.
On Friday night, De Ciman came off the bench to score 10 points on four-of-nine shooting in 21 minutes of action. De Ciman also added five assists a pair of steals and two rebounds.