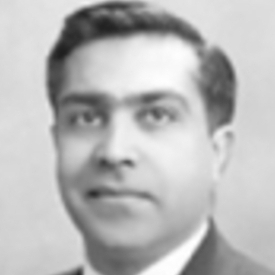 Health/Social Services/Human Justice
Dr Raza Bhimji
Life in Saskatchewan
Arrived in 1977
Ancestry
Born 1927 in Fort Portal, Toro, Western Province Uganda
EDUCATION: Elementary and Junior high in Uganda. Secondary education in Zanzibar Tanzania.
MEDICAL: M.B.B.S in Karachi Pakistan. Scottish Conjoint Diploma from Edinburgh.
INTERNSHIP: Mulago General Hospital, Kampala, Uganda.
MEDICAL PRACTICE: Private practice in Fort Portal Uganda and also worked for Uganda Medical Services at Nakasero Hospital, Kampala, Tororo General Hospital, Kitgum Hospital, Mbarara Hospital and Casualty Medical Officer, New Mulago Hospital.
IMMIGRATION: In 1968 he Immigrated to England and pursued a course for six months in Ear, Nose and Throat. In January 1969 he received an offer from Government of Canada and arrived on 2nd January 1969 and was posted at Fort Rae, NWT, 70 miles North of Yellowknife. After 20 months transferred to Prince Albert where he was involved with public Health with First Nations. His work comprised of Communicable Disease control. Two years later he transferred to Edmonton, Alberta where he was in charge of Tuberculosis Control for part of NWT and the Yukon Territory. In 1977 Dr, Bhimji was transferred to North Battleford for one year,then to Prince Albert where he was appointed a Zone Director and Medical Officer. In 1987 he was then promoted to Regional Medical Officer at the Regional Office in Regina until his retirement in January 1995. He worked for the Government of Canada for 26 years.
In May 1995 he was appointed as a coroner for Regina and the province. After almost ten years he finally retired in January 2005.
Dr Bhimji passed away October 2, 2011 in Surrey, BC