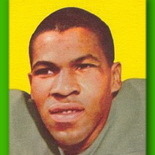 Saskatchewan Roughriders
Ed Buchanan #25
Life in Saskatchewan
Saskatchewan Roughriders – 1964-1967
Ancestry
Born on July 16, 1934 in San Diego, California. He passed away August 31, 1991 in California
He graduated from Kearny High School in San Diego, California and attended San Diego Junior College.
Ed began his Canadian Football career with the Calgary Stampeders in 1961. He played sparingly for them in the first year but blossomed in 1962 with 824 yards rushing and 6.0 rushing average.
In 1964 Ed was traded to the Saskatchewan Roughriders. He became an elite running back, rushing for 1,390 yards (7.8 yards per carry) and receiving for 681 yards (18.9 yards per catch, astounding for a running back) plus 352 yards in kick returns (27.0 per return).
Ed specialized in outside runs, in contrast to his running partner, George Reed, who specialized in inside runs, both running backs rushing for over 1,000 yards, a unique event, and highest total for a pair of running backs in CFL history. He was a CFL All-Star in 1964.
Injuries curtailed Ed in 1965 and 1966 season to only 4 and 6 games, respectively. Ed was a member of the 1966 Saskatchewan Roughrider Grey Cup team Champions. He came back strong in 1967 with 695 yards rushing (5.8 yards per carry) Ed did not play in 1968 and was traded to the Hamilton Tiger Cats, where he played for two years before retiring.
Ed passed away on August 31, 1991 in San Diego of Lou Gehrig's disease (ALS). He was 57. He was inducted in the Plaza of Honor in Saskatchewan in 2012.