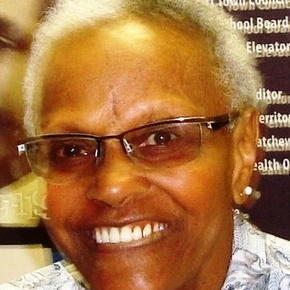 Firsts
Freda Yvonne Jamerson Ellis
Life in Saskatchewan
Born to descendants of those who came from Oklahoma in 1910.
Ancestry
Born 1 May 1933 at Notre Dame Hospital in North Battleford, Saskatchewan
Contributions
Health, Human Rights, Performance Arts
Freda was the eldest child of Elnora Jackson and Fraser Douglas Jamerson. She enjoyed a special relationship with both of her grandmothers, Hattie Jackson and Texanna Jamerson. They inspired a strong dedication to family and taught her the value of community. Freda married Reginald Ellis, 30 June 1956 and together they raised three children, Larry, Ross and Valerie.
Her decision to pursue a career in nursing was postponed when the Macklin Hospital, where she was training, lost it's training rights. She had recently been married and so it wasn't until after her children were born that Freda decided to return to nurse's training. Leaving her husband and children in the care of her mother-in-law, she attended Kelsey Institute in Saskatoon for 4 ½ months and completed her practical training at home in North Battleford.
Freda involved herself in the local union serving as President, First Vice-President and Secretary – Treasurer over the years. She has also been an active member of the Labour Council Human Rights Commission. Freda knows how to play too. She was involved with North Battleford's Community Players, acting in the play "Raisin in the Sun" where she won "best actress" at the Weyburn Drama Festival. She says, "it was a good experience to be associated with the black immigrants…. They worked like a family."
Freda passed away in North Battleford September 5, 2013 at the age of 80.