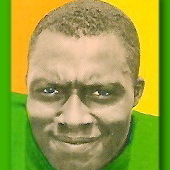 Community Service/Volunteerism
George Reed
Life in Saskatchewan
Immigrated in 1963 Saskatchewan Roughriders 1963-1975 Moved to Calgary, Alberta in 1984 Return to Regina, Saskatchewan - 2009
Ancestry
Born 2 October 1939 at Vicksburgh, Miss. U.S.A
Contributions
Sport, Business, Philanthropy, Played & Stayed
George Reed became famous as a football player and built upon that to become a success off the field and a celebrated leader of numerous charitable causes. His football career began in junior high school in Renton, Washington and college at Washington State University.
Widely recognized as the greatest running back in the history of the Canadian Football League, his 13-season (1963-75) career with the Saskatchewan Roughriders was highlighted by being named the league's outstanding player in 1965, leading the team to its first Grey Cup triumph in 1966, five rushing titles, 11 1,000-yard seasons, nine Canadian all-star team selections (10 Western). He held the CFL record for career rushing yardage for 33 years and his total of 134 rushing touchdowns remains unequalled.
Schenley Award in CFL – 1965 – runner-up 68 & 69
Club 34 - 1975
Tom Pate Memorial Award - 1975
Order of Canada - 1978
Halls of Fame –Canadian Football Hall of Fame & Sask Sport Hall of Fame – 1979
Washington State University Hall of Fame – 1980
State of Washington Hall of Fame - 1983
University of Regina Honorary Doctor of Laws - 1981
Canadian Sports Hall of Fame – 1984
Distinguished Canadian Award – 2010
Renton Washington High School Hall of Fame - 2011
Grid Iron Greats Hall of Fame – May 2013
Saskatchewan Order of Merit – November 4, 2013
CFL Alumni Man of the Year - November 22, 2013
SACHM Lifetime Achievement Award – September 13, 2014
A stretch of 10th Avenue by Mosaic Stadium named George Reed Way. November 13, 2019
Reed further distinguished himself in the business community as a sales representative for Molson Brewery for two decades and as the long time president of the CFL Players Association, which under his direction made enormous strides in achieving essential rights and fair working conditions for all its members.
While lauded for these efforts, Reed's stature in Saskatchewan is most noteworthy as a spokesman and champion for charitable causes, particularly for those who are mentally and physically disabled and specifically for the assistance provided by the George Reed Foundation for the Handicapped.
His diverse contributions to the community were recognized in 1978 when he was made a Member of the Order of Canada. Born in Mississippi and raised in the state of Washington, he has worked throughout his life to contribute to his community, lending his time and efforts wherever he can to help the broadest range of society.
Saskatchewan Association of Community Living
Saskatchewan Council for Crippled Children & Adults
Head Coach Special Olympics
Saskatchewan and Canada Special Olympics
Saskatchewan Sports Hall of Fame President
Cystic Fibrosis
Kinsmen Garage Sale
Molson Companies Donation Fund
Molson Hole in One Program
Honorary Chair, Federal Service Division – United Way
Honorary Chairman, "Hire a Student Campaign" Canada Manpower"
Saskatchewan Sports Hall of Fame Board
Wascana Golf Club Board
Saskaire Fund Raising Committee
Honorary Chair Saskatchewan Easter Seals Drive
Honorary Chair Muscular Dystrophy
President, CFL Players Association
S.C.C.C.A. – Administer Molson Hole in one Program
Board of Directors Buffalo Days Committee
Saskatchewan Summer & Winter Games
Saskatchewan Senior Fitness Games Honorary Chairman
Molstar Program
Prairie Golden Canadian
Golden Marathon
George Reed Foundation
Massey School Parent-Teacher Association President
Lifetime Membership – Saskatchewan African Canadian Heritage Museum
George and Angie returned to Regina 1n 2009 from being in Calgary 25 years. George retired as Director of Guest and Community Relations for the Saskatchewan Gaming Corporation. His autobiography, written with John Chaput *George Reed: His Life and Times*, was published in 2011.
PLAYED and STAYED
(2021)