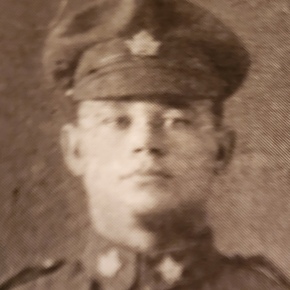 Early Homesteaders and Settlers
George W Smith
Life in Saskatchewan
Came to Saskatchewan in 1910 from Oklahoma with his parents.
Ancestry
Born on October 31st, 1897 in what is now Wagoner, Oklahoma but was at that time Wagoner, Indian Territory..
Contributions
Homesteader, Military
George W Smith was born on October 31st, 1897 in what is now Wagoner, Oklahoma but was at that time Wagoner, Indian Territory. He was the 6th of 12 children born to Rufus Sadler and Drucilla Smith. Named George Washington Smith at birth, out of embarrassment he later changed his name to George Willis Smith. The family was living in Tulsa at the time Rufus and Drucilla made the decision to emigrate to Saskatchewan in 1910, along with many other African-American people from Oklahoma and other points in the South.
George Smith filed on a homestead at Standard Hill, Saskatchewan in 1916, but his work on the land was disrupted by his service in the Canadian Army. He enlisted in Regina into the 1st Depot Battalion, Saskatchewan Regiment in 1918 and served through to the end of the war, mustering out on June 26th, 1919.
Before going to war George had become engaged to Arrenna Glover, whose family was also from Oklahoma. George and Arrenna married outdoors at the homestead of Arrenna's father Willie Glover on August 3rd, 1919 and invited everyone in the nearby Black settlements to celebrate with them. Several of the guests had to be helped across the river and up a muddy embankment by George's best man, his brother Herbert "Hub" Smith. By the time the helpful best man took his place at George's side for the ceremony officiated by clergyman J G Gordon, Hub's pants were caked with mud, to the mild annoyance and amusement of the bride.
George and Arrenna embarked on a farming life together near Lashburn. The first 3 of their 9 children: Ethel, Edith and Willis were born on the homestead. George gave up farming in 1926 to move to Regina when his father Rufus became ill and was taken to hospital there. The rest of their family: Sidney, Olie, Pearl, Pauline, Bert and David were born in Regina.
His deep, resonant voice was well suited to the Smith family's favourite pastime – storytelling around the stove. He also loved to yodel, although he downplayed his talents in that arena.
During the years of the depression George accepted whatever work he could find in order to keep his family fed and housed. They eventually relocated to Winnipeg in order for George to take work with the CNR. Arrenna died in Winnipeg in 1979 and George in 1982.
George and Arrenna's values were evident in their generosity, which was guided by faith. They were deeply loved by their children and grandchildren. He was a stylish, intelligent man, and his service to Canada, to the communities in which he lived and to his family live on through the contributions of his descendants to the arts, education, athletics and business.
This submission was written by George's granddaughter, author, filmmaker and playwright Cheryl Foggo. George makes frequent appearances in her work.