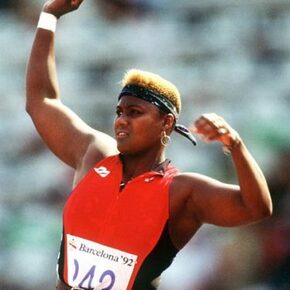 Athletics
Georgette Reed
Life in Saskatchewan
Born in Regina, January 26, 1967
Ancestry
Born in Regina, SK, daughter of former Saskatchewan Roughriders football player George Reed
Contributions
Swimming, Athletics, Coaching, Wellness
Georgette Reed is a Canadian athlete, born in Regina, SK. She is the daughter of former Saskatchewan Roughriders football player George Reed. She has competed internationally in many sports for over three decades, including women's shot put at the 1992 Summer Olympics. She started her athletic career in Regina, with the Junior National Swim Team representing Regina in 1981. In 1986, she accepted a swimming scholarship to attend Washington State based on her success as a swimmer with the Regina Optimist Dolphins.
Upon retiring from competing, Georgette was the head cross country, track and field coach for the University of Alberta for 10 years, and helped develop champions at the provincial, national and international levels and was a mentor/coach for Special Olympics Athletics athletes and coaches in Alberta. She currently works as a Health and Wellness Coordinator for the City of Edmonton Fire Rescue Services.
Georgette holds a MA in Coaching Sciences from the University of Alberta, a BPE in Physical Education and a BA in Communications from Washington State University.
Competitive Achievements
1981 – Made first Junior National Swim Team representing Regina and Canada at 13 in Gothenburg, Sweden
1981 represented Saskatchewan in swimming at Canada Games in Thunder Bay.
1986 Offered and accepted a swimming scholarship to attend Washington State based on her success as a swimmer with the Regina Optimist Dolphins. Injured shoulder and red-shirted first year
1987 Western Canada Games – Silver medal in water polo
1987 Attended Washington State and switched from swimming to track 86/87 school year.
1988 Made the Washington State track team 1987/1988 school year
1988 Selected to her first Canadian National Team – Espoir Team to Poland.
1989 Was in top 3 at Nationals for Shot Put, finalist in Discus
1989 First Francophone Games in Casablanca, Morocco – top 3 in Shot Put and Discus
1989 represented Alberta in Track at Canada Games in Saskatoon, SK. Shot put 2nd.
1990 Won 1st National title in Shot Put at Canadian National Track and Field Championships, in Montreal, PQ
1991 Pan Am Games, Havana, Cuba – threw shot put (5th) and discus (8th)
1992 Summer Olympic Games – Barcelona, Spain – shot put –15th
1994 Team Canada, Francophone Games, Paris France 2nd Shot Put
1994 Athletes' Representative and Canadian Athletics Team Captain for the Commonwealth Games
1994 Commonwealth Games 4th place – Shot Put
1995 Australia Grand Prix series – Overall champion – Shot put
1995 Pana American Games, Mar de Plata, Argentina 4th
1996 Olympic Games Trials Champion, shot put
1997 Team Canada, Francophone Games, Madagascar, Africa 2nd Shot Put, 3rd –Discus
1998 Commonwealth Games Trials Champion, shot put
1999 Pan American Games Trials Champion, shot put
2000 Olympic Games Trials Champion, shot put
2001 Team Canada Francophone Games, Ottawa, Ontario 2nd Shot Put
2001 World Athletics Championships, Edmonton, Alberta – Team Captain
2001 World Athletics Championships, Edmonton AB. 16th – shotput
2001 World Bobsleigh Championships, Igls, Austria – 9th
2002 National Bobsleigh team alternate, Olympic Games, Salt Lake City.
2002 Commonwealth Games Trials Champion – shot put
2001 Member of Washington State Women's Athletics "Athletes of the Decade" All Star team.
2005 World Masters Games, Edmonton – Gold in Shot Put and Discus
Masters National Current Record Holder as of November, 2018
Shot put 15.54 – Outdoor W35, Edmonton, 2002
Shot Put 11.94 – Outdoor W45, Vancouver, 2016
Discus 38.15 – Outdoor W40, Sherwood Park, 2011
Discus 35.73 – Outdoor W45, Vancouver, 2016
Shot Put 14.35 – Indoors W40, Edmonton, 2008
American Masters Games Medalist – Gold (Shot Put and Discus), Silver – Hammer, Vancouver August 26th-September 4th,2016
2019 Regina Sport's Hall of Fame Recipient – Athlete Category
https://leaderpost.com/sports/local-sports/georgette-reed-is-honoured-by-regina-sports-hall-of-fame-induction/
(2021)