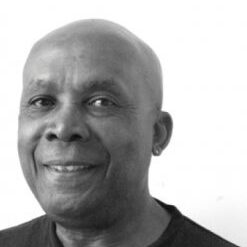 Health/Social Services/Human Justice
Gordon Yarde
Life in Saskatchewan
Arrived in Saskatchewan in 1977 - North Battleford
Ancestry
Born in Barbados, West Indies
Contributions
Firsts, Public Service, Social Services/Human Justice
Gordon Yarde, has served on and off since 1985 over two decades collectively on Battleford's town council. He is thought to be the first person of African descent to be elected into office in Saskatchewan.
Gordon was born in Barbados, West Indies, and emigrated to England at age 22. He worked with London Transport for 5 years, and then began his studies in psychiatric & general nursing at Bethlem Royal and Maudsley Hospital in London. He worked at Goodmayes Hospital where he was a staff nurse, and within a year he was head nurse.
He came to Canada in 1974, initially working in Brandon, Man., before applying and getting a job in North Battleford at the Saskatchewan Hospital in 1977. He quickly got involved in the community, participating in weight-lifting and bodybuilding in the Battlefords, and joining the local choir.
Gordon decided to run for public office, winning the 1985 bye lection for a seat on town council. He served on town council until 1991, then again from 1994 until losing in 2006. After being out of office six years, Yarde returned to council in 2012.
He remains involved in the community over the years he has lived in Battleford. This includes being a past board member on groups like Concern for Youth, the Mental Health Association, Boys & Girls Club and the Agricultural Society.
(2021)