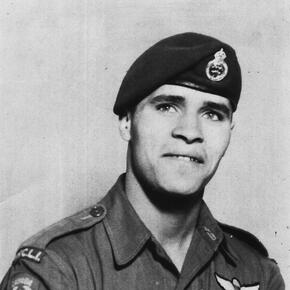 Military
Harold Arthur Howard
Life in Saskatchewan
Raised in Saskatchewan. Descendant of early homesteaders.
Ancestry
Born November 28, 1934 in Lashburn, Saskatchewan
Harold was the youngest and only male of three children. His ancestors came to Saskatchewan with the 1910 group from Oklahoma. He joined the army in March 19, 1952. He was stationed in Korea and Japan. July, 1955. He married Barbara Lane, a descendant of the 1910 group from Oklahoma in 1957. They were blessed with 2 children.
Harold was a member of the Jasper Place Legion 255 in Edmonton, Alberta He passed away on August 24, 2018 in Edmonton, Alberta.
Awards received while in the army
Volunteer Service Medal
Peace Medal
United Nations Service Medal
The Korean Star Medal