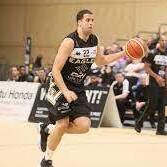 Basketball
Jamal Williams
Life in Saskatchewan
Mother moved to Canada in 1979 from UK Father moved to Canada in 1986 from America
Ancestry
Born November 26 1986 in Regina
Jamal enrolled in Luther Arts ... played for the Campbell Tartans before coming to the U of R ... brother Kai played basketball for the South Dakota State Jackrabbits
Jamal attended Campbell Collegiate in Regina
Jamal played five seasons with the U of R from 2005 to 2010, He had a nine-year professional career playing with five different teams in the British Basketball League. He played with the Liverpool Mersey Tigers championship in his first professional season in 2011. Jamal won the playoff title in 2014 with the Worcester Wolves. He was named the 2014 BBL Trophy MVP, scoring 26 points in Worcester's win in the finals over the Glasgow Rocks. He also played with the Plymouth Raiders, London Lions, and Newcastle Eagles while in Great Britain.

Williams' coaching experience includes running JAK Basketball, a skill development program based in Regina since 2013. He also helped coach Hackney Community College in London while he played pro, and also has experience in Saskatchewan with the provincial team program and at Luther College HS.
Amateur
UNIVERSITY OF REGINA 2009-10: Named team MVP ...
UNIVERSITY OF REGINA 2008-09: Broke his own U of R single-season record with 197 total rebounds during the conference season ...
UNIVERSITY OF REGINA 2007-08: Set a U of R single-season record (since broken) with 176 rebounds ...
UNIVERSITY OF REGINA 2006-07: Finished second on the Cougars in rebounding (6.2 rebounds per game) and fourth on the team in scoring (10.5 points per game) ...
UNIVERSITY OF REGINA 2005-06: Came off the bench for all 20 of the Cougars' regular season games ... averaged 4.4 points and 3.1 rebounds per game ...
https://www.reginacougars.com/sports/mens-basketball/roster/coaches/jamal-williams/855
https://www.reginacougars.com/sports/mens-basketball/roster/jamal-williams/770
https://www.reginacougars.com/sports/mens-basketball/roster/coaches/jamal-williams/1004
https://basketball.realgm.com/player/Jamal-Williams/Summary/39262
https://www.carillonregina.com/top-five-regina-basketball-players/