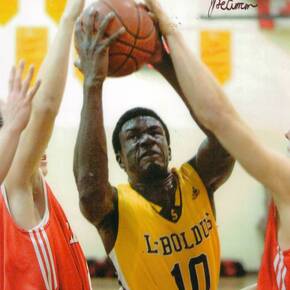 Basketball
Joe De Ciman
Life in Saskatchewan
Family Immigrated in March 23, 1994 and 7 days later Joe was born.
Ancestry
Born 30 March 1994 in Regina
Joe was born on March 30, 1994 in Regina Saskatchewan. He is the first child of Muna & Ring De Ciman, to be born in Canada. He has one older brother Ben, one younger brother Chan and three older sisters, Phoebe, Patricia and Margaret.
Elementary Schools he attended are: St Catherine's and St Mathew.
Joe also attended Dr Martin LeBoldus High School where he played Basketball as a Guard under Head coach Wade Bartlett. He posted impressive numbers as a senior in 2011-2012, averaging 30.2 points and 12. 5 rebounds per game, while dishing out 5.7 assists and blocking 3.5 shots per game. Joe was a three time first team all-city performer and a two year member of Canada's National Cadet team. He earned first team all-star honours at the2010 U17 boys National Championships, Participated in trials for Canada's U18 Junior National team.
Freshman: 2012-2013
Joe earned academic all-conference honours for his work in the classroom. Appeared in 23 games for the Rams Basketball team and averaged 1.0 points per game. 0.4 rebounds per game while playing 5.1 minutes per contest. Shot 33.3 percent from the field while connecting on 71.4 percent of his free throws. Recorded season highs with six points and three rebounds in the Ram's home win over Chadron State. Sophomore: 2013-2014
Joe earned academic all-conference honours for the second consecutive season. He had a breakout year emerging as one of the most improved players in the Mountain West. Played in all 32 games making 22 starts for the Rams including 21 of the final 22 games of the season. Averaged 25.5 minutes per game, Ranked fourth on the team in scoring at 8.6 points per game, ranking second on the squad in three pointers, made 34 and three points percentage (.347) ranked fourth on the team with 39 assists, tied for fourth with 15 steals, and fifth with 15 blocks, Notched 14 double digit scoring games. Posting back to back double digits scoring effort on five occasions. Joe tallied a career high 15 points vs. Southwestern Oklahoma State December 8, and matched it at Air Force February 8, Posted four games with three or more three pointers including a team individual season high 4 for 4 effort from beyond the arc vs. Wyoming February 22, led the team in assist in four contests. He recorded a career high three steals at San Jose State January 8, Tallied four or more rebounds in eight contests, including a career best seven boards at New Mexico January 4, dished out a career high four assists vs. UNLV February 5.
Joe now plays for Colorado State Rams who won their first 14 games, the team's best ever start, before losing to New Mexico, he is a junior guard who plays more than 30 minutes a game, is a northerner who has found success stateside without taking the path most travelled through, U.S prep school.
https://www.carillonregina.com/top-five-regina-basketball-players/