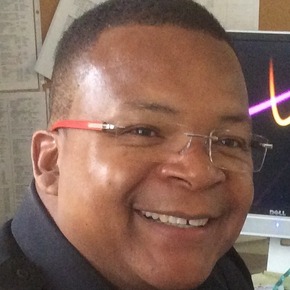 Health/Social Services/Human Justice
John Walker
Life in Saskatchewan
Saskatchewan Roughriders 1987 Lived in Regina since 1987
Ancestry
Born in Omaha Nebraska in 1961
Contributions
Sport, Law, Human Justice
John was raised his entire life by his mother. He has one older brother and a younger sister. His mom raised them on welfare and by working, so that she would provide for them what is needed for life.
John started to work at the age of ten; he shoveled snow, cut grass and also did odd jobs to help out his mom. He was always a go getter type of person. John was chosen to the Kodak All-American Football Team in 1982.
In November 1982 John became a father when his first child John Jr. was born. The child mother and John did not plan for his birth and therefore, did not remain together however; John maintained a relationship with John Jr.
John went to the University of Nebraska at Omaha where he majored in criminal justice. He played and started all of his four years there. He was 1st team all North Central Conference player his last two years there. A small article was done on John in 1982 by Sport Illustrated; his coach coined the phrase about him as "A diamond in the rough."
John came to Saskatchewan Canada June 5, 1987. John learned how fast paced the game was here, compared to playing in the NFL and USFL. It was like playing baseball on a football field. In his second season they once again went 2 and 16 however, he only played in a few games, he was competing with James Curry and Gary Lewis for playing time, because of the US/Canadian player ratio. After that season John decided that playing football was not what he wanted to do any longer and left the game.
He then began to work at the Correctional Center, Paul Dojack Youth Center and Dales House. He and his wife adopted their son Jamir in 1990 when he was three weeks old, his son John Jr. would come and visit in the summers and spend a couple of months with them. While he was playing football he worked out at California fitness where he met a few members who worked for the Regina Police Service. John submitted his application in 1990 to the Police College, and he was accepted in January 1991. During the earlier years he was treated with respect by the members of the Police Service and as well by the Regina community because of how the victims, witnesses and charged parties were treated by him.
John said Regina is only 1000 miles from Omaha and he generally returned home there each year to visit his family and his first son John Jr. who is now 32. He remarried in November of 2004 and his wife and he have a combined family of three adult children, Jamir 24, Meagan 21 and Brady 19. The football community in Regina has grown a lot with the numerous former players making their home here. Also the Alumni Association has helped strengthen those relationships and has provided an opportunity for the former players to re-connect with the community and the current players. John said Regina has become a very diverse city since he first came here and the acceptance of all cultures has been well received.
He said he is very lucky, because of the job he has attained and how he has risen through the ranks within the organization and also because of hard work and a great job he has always had pride in doing. He retired in January 2016 after twenty five years, with full pension.
(2021)