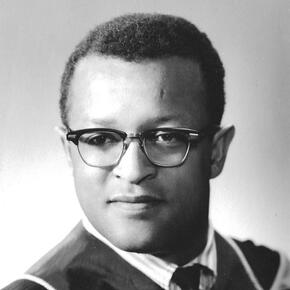 Firsts
Lemuel Walter Boyd
Life in Saskatchewan
Moved to Regina, Saskatchewan in 1962
Ancestry
Born 22 March 1937 in Edmonton, Alberta a descendant of Americans who came to Alberta, Canada in 1910 from Oklahoma and Kansas.
Contributions
Firsts, Social Work, Justice, Mental Health
Lemuel Boyd's enthusiasm for life was contagious and his contribution to the community is reflected in his life's work. His involvement with Sea Cadets as a young boy and later with the University Naval Training Division, enabled him to develop his skills as both a marksman and public speaker. Throughout his high school years he played football and was involved in drama. He is a self-confessed "ham."
Lem was encouraged to study engineering which he did for a couple of years before deciding it really wasn't for him. After working around Edmonton for a couple of years unsure of what to do he decided to return to the University of Alberta and graduated with a Bachelor of Arts with a double major in psychology and sociology. This led to his first job in Saskatchewan as a Probation Officer. This was the beginning of a long and distinguished career with the Government of Saskatchewan. After two years he took another position as a Child Protection Officer. These experiences confirmed his commitment to helping others and he returned to University once again. He graduated from the University of British Columbia with a Master's in Social Work.
Lem returned to Saskatchewan and in 1967 became the Supervisor of Family Services and Public Assistance. He worked a short time in 1969 for the Department of Indian Affairs as a Welfare Consultant out of Fort Qu'Appelle. He returned to Social Services as the Regional Director in the Weyburn Region, and later to go to the Meadow Lake Region and serve the north. In 1972 he was the FIRST person of African ancestry to assume the position of Chief Probation Officer for Saskatchewan; and a few years later, the Director of Community Corrections responsible for the Community Training Residences. In 1983, he became the Director of the Southern Region for the Saskatchewan Alcoholism Commission. He was responsible for ensuring the delivery of services and programs to persons affected by alcohol abuse. In 1985, he became the Regional Director of Social Services for Regina and area, responsible for the delivery of financial assistance.
Lem took an early retirement from the government in 1987, and began working for a community based organization, called Phoenix Residential Society as the Executive Director. This agency provides counselling and housing services to persons with long term mental illness or an acquired brain injury in Regina. In 1990, the agency started the first dual diagnosis program in Saskatchewan, providing long-term counselling and residential services to persons with a diagnosis of both mental illness and alcohol or drug addiction. After 14 years he retired in 2001. Lem was a member of the Minister of Health's Alcohol and Drug Abuse Advisory Council from 1997 to 2000. He was later a member of the Phoenix Board of Directors following retirement.
Lem married Carol LaFayette in 1984. He passed away in 2015, 33 days after a diagnosis of pancreatic cancer.
(2021)