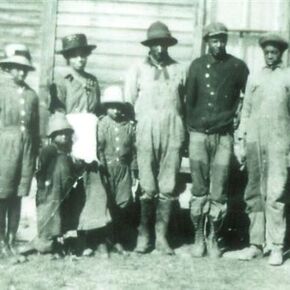 Early Homesteaders and Settlers
Lewis & Lillie LaFayette
Life in Saskatchewan
Immigrated in 1906 from Oskaloosa, Iowa
Ancestry
Lewis was born 10 October 1872 in Liberty, Buchanan, Iowa, U.S.A. Lillie (Wilson) Clarke was born in West Virginia, Ohio or Iowa on March 27, 1884
Contributions
Agriculture, Homesteader
Lewis William LaFayette, husband and father, wanted more for his family. Lewis came to Canada because of "the promise of land and of greater freedom for his children." He came in 1906 to Regina with his wife Lillie, son Ernest and brother Golden. Lewis was the son of Edward William LaFayette, born 1847 in Norfolk, Virginia. Edward is believed to be the great great grandson of the famous slave spy, James Armistead, who took the last name of LaFayette from General LaFayette when he was given his freedom. James had been a double spy in the American Revolution and had worked with General LaFayette in spying for the Americans. Edward is found in the 1870 census in Iowa and moved to Oskaloosa, Iowa by 1880. The school district of Oskaloosa in Saskatchewan was named by Lewis. All the children and grandchildren before 1943 attended Oskaloosa school which opened in 1916 and closed in 1948.
Lewis married Lillie Clarke February 25, 1903 in Iowa. Lillie, gave birth to thirteen children, the first, Helena died in infancy in Iowa and 2 others at birth. Her own parents died when Lillie was quite young. An only child, after the death of her mother, she was adopted by the Clarke family of Oskaloosa, Mahaska County, Iowa and came to Saskatchewan with her husband.
Lewis began homesteading in 1908 in the Fiske area and moved the family from Regina to the farming operation he established near Fiske, Saskatchewan in 1911. The farming operation he established prospered and so did his growing family. Most of the land was turned for the first time with a team of horses and in 1913 Lewis purchased a Waterloo steam engine. In 1927 a gas engine was purchased for farming operations and in 1929 an International combine was added. Lewis and his brothers, Golden and Jesse organized a harvesting crew of twenty-two men and traveled throughout the district helping others get the crops in the bins.
Lewis also served on the Telephone Board at Fiske, Saskatchewan and was a member of the Saskatchewan Co-op Elevators, later the Saskatchewan Wheat Pool.
Ten children grew up on the farm: Ernest, Karl, Homer, Anne, Glen, Edith, Earl, Lillian, Muriel and Daniel. Ernest, Karl, Homer, Glen and Earl all owned and worked land although only Homer, Glenn and Earl remained past 1956. Two of the grandsons remain farming. The many descendants have lived in every province and territory, at least 12 states and four countries.
As a God-fearing man, Lewis could also be very strict but he always had children around him and his own speak of his quiet dignity and high principles. He had two that he lived by. "If you can't say anything good about someone, don't say anything at all." "You can get along with anybody if you don't have much to do with them."
Lewis could often be seen walking, no doubt satisfied that his children and grand-children would enjoy the freedom he and his ancestors had fought to gain for them.
Lillie died in 1932 during childbirth and Lewis died in 1945. With his father, Edward who came to Canada in 1920, they are buried in Fiske cemetery along with several other family members.
(2021)