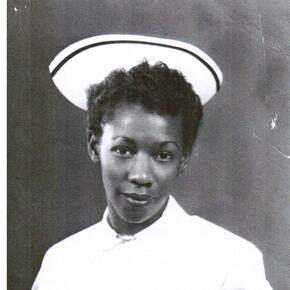 Health/Social Services/Human Justice
Marlene Lynatte (Williams) Johnson
Life in Saskatchewan
Her grandparents migrated to Canada in 1910.
Ancestry
Born in Saskatchewan
Contributions
Firsts, Health
Marlene's grandparents migrated to Canada in 1910. Her paternal grandparents arrived from Texas and her maternal grandparents from Oklahoma. This was during a time of African Americans migration into Canada. Upon her mother's arrival she became the first black school teacher in Maidstone, SK. Her father was a full time farmer. Her dad farmed 360 acres of land outside of North Battleford. Her mother upon marriage became a housewife and mother of eight children. Marlene is the eighth child and the only girl born to James and Christella Williams.
Marlene received her education at the Highworth school district and completing the 8th grade in 1946. In the fall of 1946 she attended the Convent of the Child of Jesus for high school and graduated in 1950. In 1952 her parents decided to send her to Saint Paul's school of nursing in Saskatoon, SK. She completed her degree as a registered nurse in 1955, being the first known person of African descent to graduate at St. Paul's.
Marlene always wanted to travel to the United States and in 1956 this dream became a reality. She arrived in Detroit, Michigan and shortly after her arrival she met Erwin Johnson. In 1959 she married Erwin and they have four children, 14 grandchildren and 10 great grandchildren.
Marlene has always maintained her Canadian citizenship and appreciates the education she received in Canada. Her three years at St Paul's were remarkable. She reports looking back in retrospect; it was a learning experience in dealing with people who impact her throughout her life. It was like being on a stage, yet she survived.
(2021)