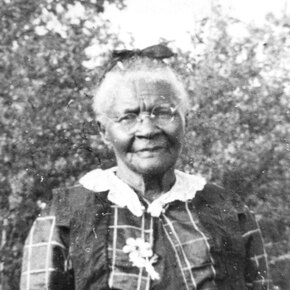 Early Homesteaders and Settlers
Mattie Mayes
Life in Saskatchewan
Immigrated in April 1910 from Oklahoma, U.S.A. Died in 1953 near Edmonton and is buried in Beechmount Cemetery in Edmonton, Alberta
Ancestry
Born in 1858 on a Plantation in Georgia, U.S.A.
Contributions
Agriculture, Health
Mattie Mayes, born Martha Jane Warner, was respected and admired by all who knew her. Always active she raised a family of 10 boys and 3 girls with her husband Joseph Mayes. Always thoughtful of others, she is remembered as a woman of wisdom. She prayed every day and was a very spiritual person.
She was also a mid-wife and helped many of the neighbours when the doctor was not able to get there in time. She was knowledgeable about herbal medicine, although she had little formal education. She is also remembered by one of her grandchildren as a refuge from harm or other children who liked to tease and play tricks on each other.
Mattie considered herself a "free slave." Named after the master's wife, she was favoured and given lighter duties in the master's household. Nevertheless, she told hair-raising stories about how cruel some people were to their slaves. And she lived to see her children and grandchildren raised in freedom, something she and her husband Joseph worked hard to achieve for them.