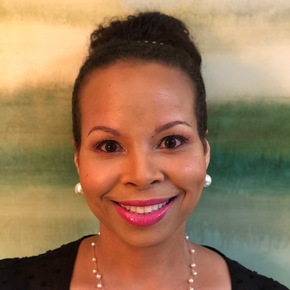 Education
Michelle James Machazire
Life in Saskatchewan
Came to Saskatchewan in 2007
Ancestry
Born 1972 in Birmingham, Alabama
Contributions
Education, Community Service
As a Black American whose maternal Eve's roots go back to Africa, Michelle has always been intrigued by the beauty and culture of the African and Caribbean society. There is a plethora of history to learn and share with others who may not have been introduced to it.
Michelle is the middle child of Jothany Williams James originally of Tuskegee, Alabama and Frank S. James of Mobile, Alabama. She received her Undergraduate Degree in Early Childhood Education and Elementary Education from the University of Alabama in Tuscaloosa and her Master's Degree in Early Childhood Education from the University of Alabama in Birmingham. It was her privilege to teach kindergarten for 12 years before moving to Canada.
Prior to moving to Regina in 2014, she lived in beautiful Niagara-On-The-Lake, Ontario.
Michelle enjoys being a Community Volunteer at Soul Harbour Rescue Mission, The Regina REALM Foundation as a network member and Dr. Perry Elementary School. She is an active member of the Links Incorporated, The Girl Friends Incorporated, P.E.O. and the Council of St. Marks Lutheran Church.
In her leisure time, she enjoys travelling, baking, music and learning about different cultures!
We all have a story.
(2021)