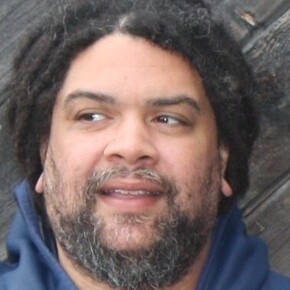 Health/Social Services/Human Justice
Nathan Michael Davis: aka Big Nate
Life in Saskatchewan
Saskatchewan Roughriders 2001-2007
Ancestry
Born on February 6, 1974 in Hartford, Connecticut
Contributions
Sport, Social Services, Philanthropy
Nate went to high school in Richmond IN and played college football at the Indiana University as a Defensive Lineman.
In 1997 and 1999, he played for the Atlanta Falcons and Dallas Cowboys, respectively. Nate joined the Saskatchewan Roughriders CFL team in 2001 during the season and had 40 tackles 3 sacks and 1 interception.
Nate spent three seasons with the Riders and he had his best season leading the team with 10 quarterback's sacks, he also picked up 31 defensive tackles and 2 tackles for losses in 17 games.
Also in 3 CFL seasons Nate had played in 45 games recording 109 defensive tackles, 16 quarterbacks sacks, 6 tackles for losses and 1 interception.
Nate was released from the Roughriders in 2007. He was then signed by the Winnipeg Blue Bombers; however, he left after playing once for the team.
He returned to Regina where he willingly gives back service to the community. Davis was nicknamed "Big Nate" and was known for his dreadlocks.
https://www.pressreader.com/canada/saskatoon-starphoenix/20120927/281943130094500