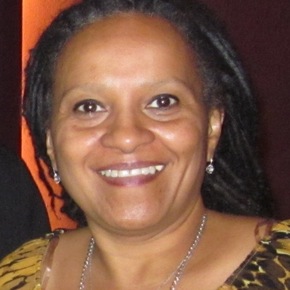 Community Service/Volunteerism
Pamela Brown (Fontenot)
Life in Saskatchewan
Came to Saskatchewan in 1991
Ancestry
Born 1955 in Windsor, Ontario
Contributions
Science and Technology, Education, Performing Arts Human Rights, Volunteerism
Pamela Brown is a 12th generation Canadian and can trace her ancestry back to the underground railway. Her gentle voice may at times belie her passion for social justice and the welfare of children. She is a problem solver and a teacher by nature.
A graduate of Wayne State University's Business Administration program she has crossed the boundary between Detroit and Ontario, between the United States and Canada. Still she had a strong desire to study Engineering and this brought her to Saskatchewan and the University of Regina. She completed her degree in 1998. Her professional life is focused on systems management.
Pam has also immersed herself in community life. As the Artistic Director for the Saskatchewan Caribbean Canadian Association, SCCA, she teaches dance to boys and girls aged 3 to 18. She is often a guest performer with the local drumming group, Skin and Bones and sings both gospel and barbershop.
Also through the SCCA she has worked with the federal government's department of HRDC, to teach life skills and employment skills to youth at risk. She emphasizes a sense of community belonging and the youth's responsibility to contribute to their community.
Pam and her husband are founding members of SACHM. She is also involved with numerous other community organizations including the Regina and Saskatchewan Immigrant Women Associations, the Open Door Society, the Saskatchewan Coalition Against Racism, and the Community Action Cooperative, to name a few. These organizations enable her to work towards the empowerment of women, advocate for young people and address barriers to full participation in community life. Pam also worked with the Black History Month Committee to plan and implement activities for the month of February each year.
As a student at the University of Regina, Pam was instrumental in the success of the Educating Youth in Engineering and Science program which planned and implemented day camps and overnight camps for students. She is also available for the Innovators in the School program housed at the Saskatchewan Science Centre which began in 1993. She will go to schools throughout Regina to make presentations on science topics. She has done similar work with the Neighbourhood Associations in the city as a summer program.