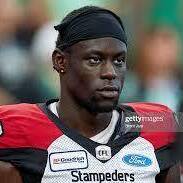 Other Football
Richie Sindani
Life in Saskatchewan
Sindani played his high-school football at Campbell Collegiate in Regina
Ancestry
Born June 23, 1996 Regina, SK
Sindani played his high-school football at Campbell Collegiate in Regina, earning league all-star honours in his senior season. He played for Saskatchewan at the 2012 Football Canada Cup.
Sindani a played a total of nine regular-season and playoff games for the University of Calgary in 2017 and he had 31 catches for 408 yards and two touchdowns. One of the scores came in the Dinos' Canada West final win over UBC. Prior to joining the Dinos, Sindani played one season for the Calgary Colts juniors and in eight games he made 31 catches for 414 yards and two touchdowns. He added seven catches for 73 yards in two playoff contests. He previously played three seasons (2013-15) at the University of Regina and accumulated 33 catches for 467 yards and three touchdowns in 20 games.
Regina Rams
Sindani played CIS Football for the Regina Rams from 2013 to 2015 where he played in 20 regular season games. With the Rams, he recorded 33 receptions for 467 yards and three touchdowns.
Calgary Colts
In 2016, Sindani played for the Calgary Colts of the Canadian Junior Football League. He played in eight games and caught 31 passes for 414 yards and two touchdowns.
Calgary Dinos
Sindani transferred back to university football to play for the Calgary Dinos Football in 2017. With the Dinos, he played in six regular season games and had 23 receptions for 280 yards and one touchdown. He also played in the Dinos' Hardy Cup victory over the UBC Thunderbirds Football that year.
https://calgarysun.com/sports/football/cfl/calgary-stampeders/stamps-notes-sindani-stepping-up