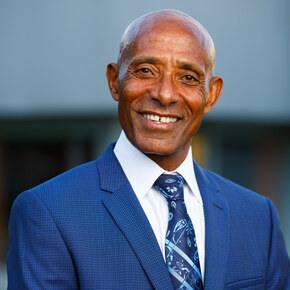 Firsts
Ted Jaleta
Life in Saskatchewan
Immigrated in March 1982
Ancestry
Born 24 September 1954 at Dangur, Western Province, Ethiopia
Contributions
Business, Politics, Sports
Ancestry: Born 24 September 1954 at Dangur, Western Province, Ethiopia
Contributions: Business, Politics, Sports
Ted Jaleta was born into a farm family in Dangur, Ethiopia. His mother and father could not read or write, but they believed that education would change Ted's life. His early schooling took place in a mud hut with about 140 other students. After graduating from high school, Ted studied graphic arts at Kenya Polytechnic in Nairobi, Kenya. Always a good runner, he joined a track club and had dreams of competing at the Olympics. However, after demonstrating with other students against the leaders of the coup that overthrew Ethiopia's last Emperor, he spent time imprisoned, miraculously escaping death and then lived for four years in a refugee camp in Sudan. He escaped to Kenya, essentially homeless and enduring even more struggles.
Finally, he was accepted into Canada in 1982. At first, he was overwhelmed. He recalls struggling to adapt to a new language and a very different culture. He credits his running for helping him make the transition. He is ever grateful to Canada and Saskatchewan for this second chance at life and a chance to pursue unfinished business and dreams.
Through running he met many wonderful Canadians and competed at the international level. As with any sport, running taught him how to handle stress, how to communicate, and how to win and lose.
Ted became a Canadian citizen in 1985 and attended the University of Regina from 1987 to 1989, enrolled in the Bachelor of Arts program. He began work at Canada Revenue Agency in 1991. Ted retired from Canada Revenue Agency in 2015.
Over the years in Regina, he has built an enviable reputation as an avid community volunteer and leader, high performance athlete and coach, and as a motivational speaker. He credits his mother's role modeling as a community leader and her belief in the value of education for his passion for lifelong learning and giving back to the community. This includes guiding several successful athletes, facilitating wellness clinics for community and sport groups, and promoting wellness and positive thinking to community groups, students at the U of R, and in inner-city schools.
He coached the U of R's men's and women's track and field and cross-country teams from 2004 to 2007 and has coached the Jaleta Pacers Running Group since then. The Pacers is a distance running club with members at all levels of ability, who participate in various fund-raising activities to assist Saskatchewan children and youth to overcome barriers and achieve their potential, and support leadership opportunities for the disadvantaged.
In 1997 Ted was ranked seventh in the world in the Masters Division for distance running by Runners World magazine, and was named SaskSport Master Athlete of the Year. He has also received the Queen's Golden Jubilee Medal in 2002, and was inducted into the Saskatchewan Sports Hall of Fame in 2005. A book by Deana Driver about his struggles and achievements, Never Give Up, was published in 2006. In 2010 he fulfilled his dream of carrying the Olympic torch, near Swift Current, Saskatchewan. Ted was the recipient of an Honorary Doctor of Laws Degree from the University of Regina in 2014.
Ted also ran as a candidate in the 2016 Provincial Election for the NDP in Regina Coronation Park.
In recognition of community work, in February 2017, the City of Regina added the "Jaleta" name to the list of future street names in Regina.
Ted was elected in 2020 as the Regina Public School Board Trustee in Subdivision 1.
Ted lives in Regina with his wife Mary Jo and their young son Jacob. Ted's older son Adam attended school in Regina and has begun his career.
http://tedjaleta.com/news/item/?n=29
https://sasksportshalloffame.com/inductees/ted-jaleta/
https://runnersconnect.net/running-interviews/ted-jaleta/
https://regina.ctvnews.ca/here-s-who-will-be-on-the-regina-public-and-catholic-school-boards-1.5182035