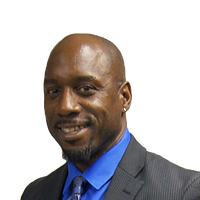 Business
Ventson Donelson
Life in Saskatchewan
Saskatchewan Roughriders 1992 - 2000
Ancestry
Born on February 2, 1968 in Rock Island, Illinois
Contributions
Sport, Business, Philanthropy
Ventson attended Michigan State and in the 1990 NFL draft was picked by the New England Patriots. He came to Regina in 1992 played defensive back for the roughriders for 8 years.
Ventson is the Executive Director and Owner of EPIC Coaching Solutions, which is an organization that is dedicated to providing life skills and motivational tools to assist individuals in overcoming life's obstacles and to remain aligned with the real you. These tools are also beneficial in promoting a positive life balance in order to achieve your life goals and dreams.
As a certified Life Coach, motivational and inspirational instructor, Ventson is committed to working with all demographics of our population. He has spent the past eight years working for the Government of Saskatchewan in equipping and assisting troubled youth and adults with the tools to realign themselves with their morals and values to reach their goals and optimal potential to be successful in their lives.
Faced with many life altering challenges, including having his professional football career prematurely ending due to a severe head and eye injury and at the same time having to deal with the unexpected loss of his dad, Ventson knows too well how quickly the path in life can take a turn for the worse and send you spiraling into a whole new dimension. Throughout all of these trials and tribulations, he was able to remain focused on his dreams and committed to his love and passion of inspiring others to greatness.
Ventson is also the Founder and Owner Epic Player Development which is a three-phase, action-packed football program that focuses on delivering the highest level of coaching and training, in order to develop Canada's next generation of skilled and knowledgeable football players. He has coached the last nine years with the Regina Minor Football Club along with the Regina High School All Star Spring League and the Leboldus High School Football Team. And has been part of 9 championship teams. He is dedicated to reaching out and enriching the lives of young people across our province.
Growing up in Detroit and overcoming many obstacles to achieve the dream of playing professional football, Ventson truly understands what it takes to beat the odds and to live and achieve a dream. These life tools have assisted and equipped him in many ways in his life and now he would like to share them with you. Ventson is dedicated to making a positive difference in the lives of many and is committed to seeing these dreams become a reality.
The biggest waste in the world is the difference between who we are and who we can become - Ben Herbster