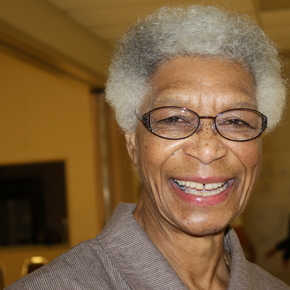 Religious Leadership
Vera LaFayette
Life in Saskatchewan
Worked in the Yukon for eight years otherwise in Saskatchewan most of her life
Ancestry
Born in 1936 on a farm near McGee, Saskatchewan
Contributions
Firsts, Health, Social Services, Religious Leadership
Vera Helena Mildred LaFayette is the third child and eldest daughter born to Karl Hans and Nordena Rose (Younger). She learned to overcome her shyness and reservations to become an accomplished woman. She is a mother/nurturer by nature and is dedicated to helping others less fortunate than herself.
Tall and athletic, she often felt like she didn't fit in. As a result she was slow to make friends at school and dreaded being called on by the teacher. Fear of failure clouded her early life and she worked hard to live up to the respected LaFayette name.
Her inner strength first showed itself while working at the Rosetown Bakery after school and over the summer months. She started out working in the back baking breads and buns for sale. She hoped to work her way to the front serving customers. The owner was somewhat reluctant to have her work the front counter fearing customers would not want to buy goods from a Black girl. This made no sense to Vera. If she baked the buns why shouldn't she sell them? One day Vera decided not to work at the Bakery anymore unless she was allowed to work at the front. The owner gave in and Vera started to feel good about herself.
Vera trained to be a Psychiatric Nurse at Weyburn, Sask, becoming the first known person of African descent to graduate. She worked at the Regina General Hospital before taking a position as a Social Worker for the Department of Social Services. She discovered her true calling while working in the Yukon. She returned to Regina and with the support of her family began serving the community through the Sonshine Christian Ministries. Established as a not-for-profit organization in 1978 Vera has dedicated her life to serving God and those less fortunate.