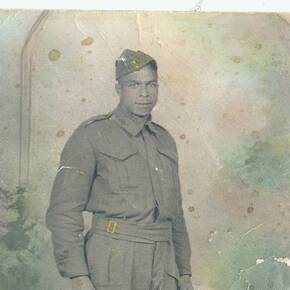 Agriculture
William Earl LaFayette
Life in Saskatchewan
Lived in Saskatchewan all his life. Son of homesteaders Lewis and Lillie LaFayette
Ancestry
Born August 9, 1918 at McGee, Saskatchewan
Contributions
Military, Agriculture
William Earl LaFayette was a mischievous, rugged kind of kid who liked to whistle, which on occasion annoyed his mother Lillie. He started school at Oskaloosa in 1925 with seven other children, and completed his grade 11 by correspondence. He enjoyed school and was especially interested in history and science. Earl's deep, warm laughter is contagious.
Earl volunteered to join the Canadian Army but was rejected on the grounds that it was a "white man's war." Later he was called up when more men were needed to serve overseas. He went with a Regina-based group, the First Canadian Corps Transport unit. Although he was not directly in battle he did experience mortars and shelling a lot. Living outside most of the time, he never slept in a bed for two years. He also suffered from being poisoned while in Sicily. He and some buddies thought they were buying cognac but it proved deadly for 9 of the 35 men who drank it. Earl spent two months in hospital but managed to survive the ordeal.
He returned to the farming life and married Jean Betty Howard on 25 October 1947. Together they raised a family of seven children. Not one to punch a clock, farming suited Earl. He especially enjoyed the peacefulness, the time to think and appreciate nature. He has shared his love of nature with his children as well.
Earl joined the Farmer's Union in the 1940s but quit in the 1950s because he didn't agree with some of the decisions made by the organization. "I've got a mind of my own," he stated. He also served on the School Board for a few years and drove the school bus.
Earl passed away November 27, 2007 and is buried at Fiske.